Global Partnering Campaign
According to Investopedia, a roadshow is a series of presentations in various locations leading to an Initial Public Offering (IPO). The Roadshow is a sales pitch or promotion made by the underwriting firm and a company's management team to potential investors before going public. Roadshows generally occur in major cities worldwide and are meant to drum up interest in the upcoming offer. Potential investors are introduced to the company, its history, and its key personnel. Typically, a firm and its management team traveling on the roadshow prepare for months and dedicate weeks of practice to pitching and presenting themselves and their company to potential investors.
Roadshows in the Life Science Arena
The life science arena is unique in that startup companies go on global roadshows like pre-IPO CEOs to raise capital and find licensing deals. Unlike other industries, life science startups coalesce a small team and then get the capital to hire a bevy of service providers to aid in designing, building, and testing their products. Unlike their IPO counterpart's startups, Life Science CEOs do not have an experienced underwriting firm with years of practice and a Rolodex of internationally qualified investors. Nor do they have anyone producing their global roadshow, setting up meetings, prepping, educating, and aligning their roadshow pitches and strategy. The Life Science CEOs are basically on their own. LSN helps prepare startups for their global roadshow and has a global partnering platform that companies can leverage to execute their campaign. LSN calculates that it has helped 400 companies raise over 5B dollars.
LSN Partnering Superstructure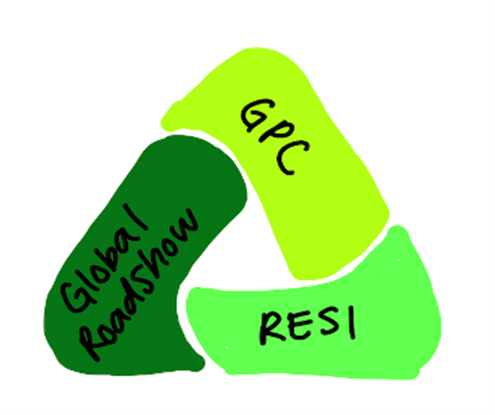 Life Science Nation (LSN) has built a global partnering superstructure featuring healthcare startups and the capital investors, co-development and licensing partners who seek them.
This partnering superstructure has three components: the LSN Global Partnering Campaign Database, Global Roadshow Preparation, and Redefining Early-Stage Investments (RESI) international partnering events.
LSN Global Partnering Campaign (GPC)
A GPC is a numbers game, so staying in your region is a bad idea. Going global statistically increases your partnering opportunities and chances of being successful.
A GPC takes anywhere from 9-18+ months. First things first, you need to get organized!
First, you need a list…
All fundraising CEOs need a Global Target List (GTL) of partner targets that are a fit and a CRM to put them into so that they can manage and organize their global partnering You will need between 400-800 partner leads to find that handful of partners whom you will do a deal with. How you go after and manage your GTL will determine your success.
There are ten categories of partners, including capital investors and licensing.
The key is quickly compiling a list of potential partners that fit your stage of development and product set.
LSN Can Generate a Global Target List (GTL) Delivered in a SaaS Model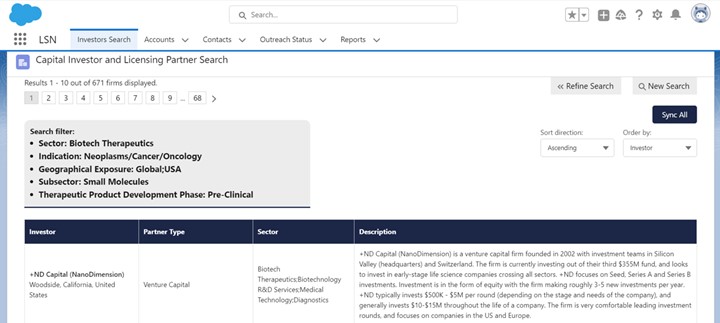 Example Search of Investor and Licensing Partner – 671 Potential Partners Found
… Then, a place to put it
LSN Turns Salesforce into a Global Partnering Campaign Tool
The LSN version of Salesforce is offered for free on the Salesforce App Exchange; the app comes integrated to accept LSN's Global Target List and instantaneously enables Salesforce to transform into a turnkey Global Partnering Campaign (GPC) application.
LSN has been curating a database of global early-stage partners for over 10 years and has the best offering in the industry. LSN offers capital investors and licensing partner profiles that are current, present, and future-looking, which makes them invaluable for launching and executing a campaign. The LSN Global Partnering Database comprises ten categories of 3,500 firms with 10,000 contacts.

House and manage your Global Target List (GTL) in Customer Relationship Management (CRM)
Putting your GTL in a CRM allows you to manage your campaign and have all your associated information in one place accessible with the click of a button.
Doing a global campaign means embarking on weekly, monthly, and quarterly regional roadshows and regularly attending partnering events. It is not just going to 1-2 partnering events. It is a full-time job.
Being able to take all your data and information with you is critical. You need 24/7 access to your GTL info and the status of all your accounts.
The combination of a current accurate GTL and simple, functional, yet robust CRM for account management becomes the basic tool you need to be effective.
Once you have your GTL and CRM, You Must Track and Manage Each Account
In the BD world, you must be adroit at managing accounts. Generating the initial GTL and then vigorously managing the status of each account is crucial to success.
Taking an account off the table as "unqualified at this time" is just as important as putting a new one on the table. Managing the ebb and flow of accounts deemed unqualified, surfacing new replacement accounts, and moving along existing accounts are all part of the global partnering campaign game you are now playing.
Account management is an art, and it starts with current, accurate GTL, housed in an easy-to-use CRM.
 Best Practices for Opportunity Management
Best practices for managing a global partnering campaign start with opportunity management. You need to be able to be efficient in tracking the status of hundreds of targets. You can't afford to miss anything.
Tracking all your targets, are they responding or not responding?
How many attempts and what modality works? Responds to phone but not email, Loves zoom but will not meet in person at an event.
What are the associated milestones, NDA, data room, due diligence, next steps, and follow-up tasks.
Status of outreach: the history of all email, phone, roadshow, and partnering event interaction.

Track your Investor and Licensing Partner Outreach and Upcoming Tasks and Meetings
 Configuring your CRM for a Global Partnering Campaign
The best practice that resonates with experienced startup entrepreneurs is keeping everything as simple as possible.
It is easy to overanalyze and complicate how deeply you want to manage and track your accounts. In the life science arena, it is easy to "go deep" and really "dig down" and get as much data as possible on every account and interaction from every meeting.
The truth is going too deep, and being over-analytical will bog you down. GPC is a numbers game. You must be swift in getting an account qualified and rapid in getting interactions that get this account moving along or off the table. That must be your mantra!