Currently, Life Science Nation (LSN) has the most comprehensive life science investor database in the world. LSN has also pioneered a unique global partnering event model that matches buyers and sellers based on their specifically stated needs and declared partnering mandate initiatives garnered from one-on-one interviews and curating buyer/seller databases in a selected industry.
LSN created a global superstructure for matching early-stage buyers and sellers across the domains of drugs, devices, diagnostics and digital health, the '4 D's. LSN curates two databases: a buy-side, of 10 categories of 5,000 global early-stage investors and a sell-side of over 50,000 global technology assets.
LSN also offers a Sourcing and Ranking Service (SRS) for clients who need to find and vet technology assets for channel and pipeline development. SRS is based on an expert system Dennis developed along with Bill Kohlbrenner, LSN's Chief Science Officer.
Company Founder and CEO, Dennis Ford is the creator of the Redefining Early Stage Investments (RESI) Conference Series, which stages healthcare partnering events across the globe. The RESI Conference Series is held six times a year, alongside the largest life science event, JP Morgan, in San Francisco, in January, alongside Bio Europe in March, alongside BIO USA in June, alongside Biotech Week Boston in September, and in Shanghai and Taiwan in November 12 and 14th, respectively.
RESI was created to bring early-stage companies together with early-stage investors and strategic channel partners. The theme is to maximize the capability of finding partners who are a fit for the stage of development and product of a firm. Seeking funding for life science companies comes with two major challenges. First, there is an abundance of early-stage companies seeking capital in the US and globally, as a result of immense governmental R&D support at life science technology hubs around the world.
These companies, whether university spinouts or independently founded, find themselves competing for a limited amount of regional capital, and many of them require strategic advice to help launch and stage a successful global fundraising campaign. Second, it can be extremely difficult to find and get in front of the active investors in the space, be they angels, family offices, VCs, PE, or Pharma. This is often due to the sheer volume of deal opportunities in their inbox, making it hard for the startup to differentiate itself.
Compounding the early-stage funding dynamic is the lack of a public face for many family offices, most choosing to be in stealth mode under the radar screen, posing yet another challenge to getting in front of the right investor. What's unique about RESI is that the event is cross border and cross-domain. RESI focuses squarely on connecting startups with 10 categories of global investors across the silos of drugs, devices, diagnostics and digital health. RESI caters to both the earliest stage startups, those seeking grants, seed and angel capital, and the firms who seek series A and B funding.
Because LSN organizes a RESI conference every few months, fundraising CEOs and investment partners can incorporate RESI into their monthly global business activities. RESI has around 2000 global investors and channel partners that regularly attend 2-3 RESI conferences a year. LSN estimates that over 300 companies have raised over $400mm dollars as a result of including RESI as part of their fundraising strategy.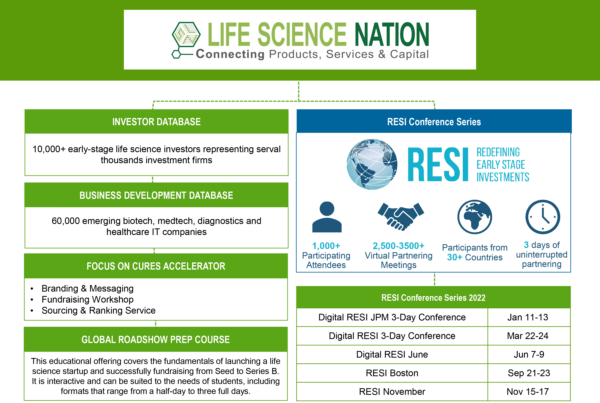 Dennis just recently launched the Focus on Cures (FOC) Accelerator that helps high-growth, startup companies move into the global partnering arena through a two-week Boston-based immersion program integrated into LSN's global partnering network and the RESI Conference Series. This accelerator allows companies to take full advantage of the LSN superstructure to get their technology assets from a regional to a global mindset after the initial gov't funding through the FOC Accelerator.
The theme of the FOC accelerator is as follows: create a funnel of elite, top startups that need to raise seed, series A and B rounds. There is a great challenge with the sales, marketing and BD acumen of the constituents found at the myriad of regional accelerators and incubators around the U.S. This is also true for the universities, colleges and hospital tech hubs as well. There is an enormous hole that never seems to get addressed, mainly because of the lack of sales, marketing and BD expertise at these hubs, all having their own disparate viewpoints on how things like scaling a company and finding investors and channel partners is properly done.
There is no standardized methodology for teaching a company how to brand and message itself. There is no reliable, accurate, and current database (besides LSN's) to get a company a list of global partners that are a fit for their stage of development and product set. There is no tech hub that teaches how to get a list of global partners and then mange that list with a CRM like SalesForce.com, nor do they teach how to prioritize that list into A, B, and C targets to go after and manage. They also do not teach how to launch and stage a partnering campaign and how to make an introductory phone call or write an introductory email. Most importantly, no one teaches the holy grail of canvassing…how to follow up.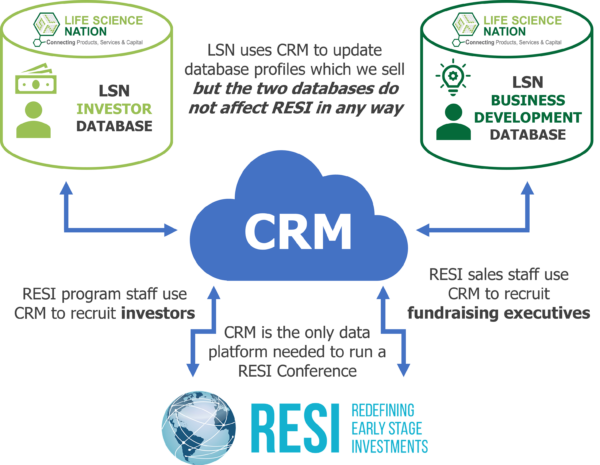 Dennis has written three books on the subject and has been doing boot camps around the world for 6 years, trying to help solve this problem with the methodology he has developed for global partnering. This combination of the RESI Conference funding ecosystem and the FOC Accelerator creates a unique, scalable, global superstructure that has not existed before.
Dennis also created and staffed Boston Innovation Capital (BIC), member SIPC / FINRA, an advisory firm that was spun out of Life Science Nation (LSN) to address an unmet need among early-stage scientist/entrepreneurs for tactical, hands-on assistance in packaging technologies and management teams and in helping execute their fundraising campaigns in the biotech and medtech arenas. BIC will select top, elite clients and help them raise series A and B rounds, leveraging the LSN ecosystem.
LSN was founded to help move science forward and be part of the change that is coming to the life science domain. Capital is the missing ingredient holding back the advancement of life science today. LSN remains dedicated to helping emerging life science companies identify and connect with early-stage investors, and our story has just begun.